TEAM: a number of persons associated together in work or activity.
Our pastoral staff is a strong team of self-starters and highly motivated servants. They have over 75 years of combined ministry experience here at MVC, not including previous ministry assignments. Our Pastors are servant-leaders with a heart for Bringing Christ and People Together.
Brooke Wood, Tammy Gallimore, Kaye Merriett, Julie Moore
The MVC support staff is an exceptional group of skilled workers who, behind the scenes, keep MVC running smoothly. They are on the front lines of our daily operations. And...they make our pastors look really good!
Pastor David Gallimore brings to the MVC pulpit the unique gifting of Pastor/Evangelist. A shepherd's heart, a God-sized vision for Midland Valley Community, and a powerful prophetic message for "such a time as this." For 37 years, Pastor David has led growing churches and has literally traveled the world sharing the life-changing Gospel of Jesus Christ. Pastor David loves to PREACH, PRAY, and lead PEOPLE. His personal mission statement is to ENCOURAGE, EQUIP, and EVANGELIZE millions of people here at home and abroad.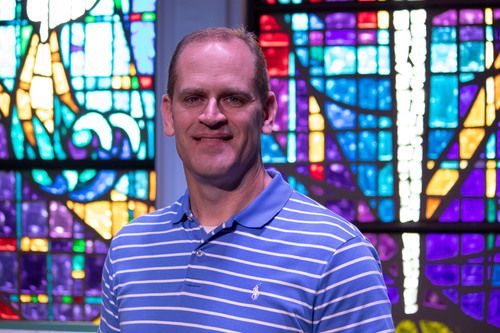 Executive & Worship Pastor
Pastor Mike & Melinda came to Midland Valley Community in 1996 to be our Youth Pastor. He transitioned to Worship Pastor in 1999, then added Executive Pastor responsibilities in 2016. Mike and Melinda have three kids: Chandler who lives here in town; Chad, who is married to Abby and is a Worship Pastor in Bentonville, AR; and, Mia Grace, who is in middle school. Pastor Mike loves spending time with his family, enjoys playing saxophone in the Aiken Concert Band, is an incredibly average slalom skier, and plays racquetball regularly.
Pastor to Families with Children
Pastor Pennye has been a part of this church since her early childhood which makes it even more special to her! She has been leading our Ministry to Families with Children for a total of 26 years and has loved every minute of it. She also enjoys Ministry to our Prime Timer Senior Adult Ministry remembering those that invested in her while growing up in this amazing church. She lovingly calls her ministry, "From Diapers to Depends" and loves each of them from the youngest to the oldest. Pastor Pennye's husband, Robbie (Mr. Robbie) serves faithfully and sacrificially by her side. They have two adult children, Seth and Brooke, Four Grand-dogs, and one granddaughter, Emmy who has rocked their world! She and Robbie love God, people, and serving others!
PASTOR TO FAMILIES WITH TEENS
Mike and Amy joined the MVC staff in 2008, with a vision to see teens become Fully Devoted Followers of God. The Ohair's have two kids: Peighton and Garrison. Together, they love any kind of competition and cheering hard for the OKC Thunder, Sooners, and Dallas Cowboys. Mike is a gifted communicator, teaching in a creative and humorous style that will make you laugh hard and, hopefully, think even harder. He loves helping people find grace-inspired ways to apply truth in everyday life.
Wayne Cheselka - Outreach Pastor for Midland Valley Community, SC District Disaster Response Coordinator and member of the Executive Council of the Nazarene Motorcycle Fellowship. Accepted the call to ministry in 2007, ordained in 2016. He has led numerous teams in support of hurricanes, tornados, and Work and Witness trips. His passion is helping those who are disadvantaged and in need. He has also written and published 2 books.
Sports & Young Adults Director
Nolan began attending Midland Valley Community in 2006 while he was in high school. He attended Erskine College on a basketball scholarship & finished his Bachelor's Degree at USC-Aiken. In 2017 he answered the call to oversee the Sports Ministries full time. Nolan and his wife, Brooke, have been married since March of 2014 and have a daughter named Emerson. He enjoys spending time with his family & participating in the many different events at MVC. Nolan also loves outdoor activities such as hunting, fishing, and obviously sports!
Media Pastor & Director of Technology
Pastor Chris & Missy Ward started attending Midland Valley Community in 2018. They were married in 2009 and have three children: Marra, Elias, and Elliana. Chris has over 22 years in the Information Technology field supporting enterprise business operations, manufacturing, nuclear waste, telecommunications, federal and local governments. He accepted a call to the ministry in 2019 and has been in his current role since March of 2021. Chris is currently enrolled in seminary school and working toward ordination. Missy is the Director of Admissions at our very own Midland Valley Christian Academy. Marra attends MV Christian Academy and will be part of the first graduating class. Elias and Elliana also attend MV Christian Academy's daycare making this a complete and true family campus for them.